Aloe

from Green Our Planet
Aloe - a mobile app made for corporate giving programs, by using hydroponic growers with the goal of creating a tribal effect with community participation.
Alice Hsu
Sabrina Hsu
Kadie Despain
Actively involved in site schematic & site audit

Conducted 2 users interviews

Interviewed the client

Determined minimum viable products

Designed user persona & journey map

Highly involved in wireframing & prototyping

Created HEART framework to measure success rate
Community giving is becoming common in places like the US, with many opportunities for people and companies to donate their time and money.
Clients are clueless about the project goals themselves, not knowing what to do.
Green Our Planet, like many other organizations, are finding challenges in reaching its funding goals for school programs.
Although hydroponic growers are gaining popularity, they have not reached viral status.
Leaderboard to enhance active participation.
Plant menu to educate and promote hydroponics.
My Garden to keep track of the plants status.
We figured out the project goals together with the clients
HOW DID WE START THE PROJECT?
Since the clients aren't sure about the goal of the project, we offered to do a site schematic & audit to help them identify the underlying issues at the current website, we believed this is the best way to portray a clearer picture of what they are lacking, and what they need to improve.
Site Schematic & Site Audit Key Findings
Excessive sub-pages

Expired external links
Outdated content

Unorganized content hierarchy
Navigation is all around the places (not user-friendly)

Unreasonable amount of CTA
Are we fixing current website bugs, or...?
We presented site schematic and site audit outcomes to the clients
The team presented the outcomes to the clients not only to tell them what are the underlying issues but also to study their reactions. As the conversation continues, we found out that the co-founder wishes to incorporate the leaderboard gamification concept into the new product.
Co-founder of Green Our Planet
It would be interesting if we could come out with something like Peloton (high-energy indoor cycling workouts). I always feel competitive as if my adrenaline is boiling every time when I see my ranking drop. I believe that's the kind of energy we need to improve users' engagement.
Based on the conversations, we concluded that:
GoP wish to increase their brand virality via social media promotion

GoP wish to obtain more sponsorship to support their school programs

GoP wants to improve user engagement via gamification features

GoP wants to create a new branding strategy to enhance their brand identity
We create a mobile app for hydroponics growers?
ONCE WE GET A GREEN LIGHT FOR THE MOBILE APP IDEA ...
We conducted a brainstorm session internally
A good conversation always leads to more questions, the team decided to write down all possible questions and make categories accordingly.
We create a hydroponic mobile app for the corporate giving program?
TO BETTER UNDERSTAND THE OPPORTUNITIES ...
Performed secondary research to study the market opportunities
Due to time restrictions, we decided to perform secondary research based on a few topics to better justify the design opportunities.
Approximately $ 5 Billion
75% employees engaged in corporate giving program
71% of employee wants to volunteer in corporate program
Making it possible to ease world hunger issues
70% of the water usage on earth goes towards traditional agriculture production
hydroponics is foreseen to hit approximately $9.8 Billion by the year of 2028
TO IDENTIFY THE MINIMUM VIABLE PRODUCTS ...
I talked to two candidates to better understand their hydroponics journey
A good conversation always leads to more questions, the team decided to write down all possible questions and make categories accordingly.
I have 3 years of experience in hydroponics
I can grab the herbs I need from my garden whenever I want to
I am confused with the lighting and nutrients for my herbs
I do love the concept but it is not easy to maintain.
I sometimes forgot about changing the water
I have a couple of small aeroponic system
I was introduced to hydroponics by my mom
It's hard to study the pH levels needed for hydroponic plants.
BASED ON THE FINDINGS ...
How could I translate the pain points into design opportunities?
Difficulty in monitoring the hydroponics health status
Often forget about watering the plants
Learn how to manage hydroponics (user manual)
Wants to get notified about the plant status
How can we make it more accessible for users to monitor their plants?
Limited funding to support the school programs
Do not have channel to advocate hydroponics
Wants to improve user's engagement (gamification)
Wants to make hydroponics a popular trend
How can help the clients (GoP) to achieve their funding goals and at the same time advocate hydroponics?
How could we
incorporate
research findings to the semi-fictional persona?
EVIDENCE-BASED USER PERSONA
I designed the primary persona - Ashton Raleigh (he/him)
Ashton says "As a new team member of Accenture, I want to be able to share my team's progress within and out of the app, so that I can visualize how we are positively impacting the community".
BASED ON ASHTON'S EXPECTATIONS ...
We determined the minimum viable products
Writing down the items we wish to include in the mobile app, it helped a lot in visualizing how realistic the idea is. We then sorted out the items based on categories such as: Must Haves, and Nice to Haves.
Reservoir
Planting pods
User manual
Seeds
Lights
Camera
Nutrients
Water pump
pH & TDS meters
​
Log in/ Log out
Home
Profile
Settings
Navigation
Help & Support
Reminder notification
Chat box & call
Photo gallery
Preference quiz
Dashboard (diary)
Augmented Reality
Automatic light control
Automatic nutrient control
24/7 live support
​
​
TIME TO LAY OUT THE IDEAS ...
How can we help Ashton share his hydroponic experiences with others?
We designed a user flow for Ashton
TRANSLATING PRODUCT FEATURES TO A ROADMAP
Scenario: Ashton is a web designer at Accenture. He is competitive and health-conscious, and he is also an avid user of social media. Most of all, he loves sharing his experiences with others. Hence, the Aloe app for hydroponics is made for him!
TRANSLATING ROADMAP TO SCREENS
User Story: Ashton receives a notification from the Aloe app that one of his gardens is in need of nutrients. He uses the Aloe app to order what he needs. In the meantime, he also checks the leaderboard and gets inspiration on what to grow next from the plant menu.
LOOK AT HOW ASHTON UTILIZES THE ALOE APP ...
Ashton participated in a hydroponics program with his new company - Accenture.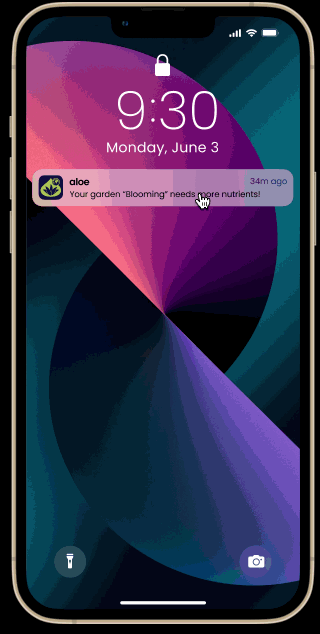 Push notification as a reminder to check the garden's health including nutrients status.

CTA: Sponsor a School!

Live view to check the plant's current situation.

Option to edit your garden.
The dashboard showed Ashton's current rank compared to his co-workers.

The scoring overview reminds Ashton of how the points are being accumulated.

Ashton gets to see his ranking for today or of all times.
The search button on the right-hand side allows Ashton to search for a keyword, for eg: names or plants type.

Ashton can also check on the badges he collected over time.
Ashton study for the plant manual and decided to add two different plants to the same pod to check if both are compatible to grow together.

He can then add the plants to the cart and purchase them.
WHAT DO THE STAKEHOLDERS THINK ABOUT THE PROJECT? ...
We conducted a usability testing with the stakeholders via Zoom
A usability testing session was conducted with a total number of 9 internal stakeholders from different departments. Some students from other classes were also invited by the professor and were asked to give critical feedback from a professional UX perspective.
Since this is not a launched product, we decided to create a presentation slide and walk through the ideation process with the stakeholders, and do an open discussion afterwards. Here are the feedbacks we collected:
"I really like the gamification idea, and I think it's really cool, I think that can really take people to engage in hydroponics, and I think we can even take that idea and put it into school programs, for example competing around the farm race market."
"So if you start to drip down to the bottom 10 in the ranking chart, would you be getting any sort of warning notification?", "What is the purpose of having a gallery icon under the navigation bar?"
"I will pass this to the Northeastern engineering school and see if they can continue this project by making this happen in real life."
After the presentation, we asked them to rate the project based on their overall experience with the product and presentation.
9 out of 9 stakeholders rated
WHAT CAN WE DO IN THE FUTURE? ,,,
I designed a HEART framework to measure success
The HEART framework helps us evaluate how users respond to the product features and how it brings impact the organization. I figured this would be a good metric to continue the design iteration once the product is launched.
For users to interact with each other via the hydroponic gamification features
Amount of active time in session

Amount of hydroponics plants

Searching for competitor's name
% of active time spent in the app

Frequencies in growing new plants

Moving frequencies in ranking
Obtained immediate feedback in regards of the hydroponic plants status
Attend to push notifications

Check out live view features

Add plants into comparison pod
% of clicking the push notifications

No. of times checking on plants

No. of times studying plants compatibility
Increase hydroponics virality via corporate giving program
Number of sales

Accumulated school sponsors

Enhance brand identity
Sales % in hydroponic equipment

No. of sponsor receives

No. of users in total
The team struggled for a bit to reach out to the right representative from green our planet, we were not sure about their expectation and how can we help to execute the plans. We spent almost 4 weeks trying to figure out the end goals of the project from the clients and due to time constraints, we decided to perform a site schematic and site audit to help them better understand the current underlying issues of their organization. Though eventually, we came out with a solution by incorporating the leaderboard concept into the product to increase user engagement, however, we did not have much remaining time to conduct more thorough user testing.
​
If I were given more time for this project, I would love to continue the user testing by interviewing corporate employees to measure their likeliness of participating in a corporate program related to hydroponics. This would be a great piece of information to further iterate the design solution from a first-time user perspective. I would also love to continue designing the social media channel (gallery button on navigation bar) to better enhance one of the project goals of increasing user engagement.